It's the end of the month which means it's another update. I hope you're well, healthy, and getting in some hobby + games.
I'm currently in Week 6 of a lockdown which has just been extended for 4 weeks. Fun! Luckily Warhammer has contributed to my sanity and making YouTube videos have kept me focused. I do miss the gym though.
WHAT HAPPENED IN JULY
You might remember in the last update that because of the Patreon support I took a week off work to research, script and record videos. Here is what we released over July;
WHAT'S COMING IN AUGUST
A lot. 
The FAQ for Generals Handbook 2021 will be published soon which means I can record more of the Getting Started in AoS 3 series.
In additional to this series I'll be picking up the faction discussions across August and September to learn how 3rd edition has impacted them. I've started to identify guests and reached out, so expect to see live discussion in the very near future.
I've also got a few ideas brewing including a 'How To Defeat' series that'll kick off with our larger than life heroes of the Mortal Realms. These super heroes are more dangerous in this new edition so I'll attempt to unpack them.
DISCORD
If you didn't already know, AoS Coach has a Discord and it's pretty freakin' awesome: https://discord.gg/xVAks8q . We have over 2,400 members and as a Patreon I'll grant you permission to our private room. If you aren't already tagged Patronage… let me know.
The Patreon's has been really helpful asset to talk through 3e and practice over on Tabletop Simulator.
END CREDITS UPDATED
As always, the YouTube video end credits and episode description thank you continue to be updated as supporters move. If you are wondering how the names are ordered: they are listed by Patreon overall contributions which acknowledges both tier level AND duration
WHAT AM I WORKING ON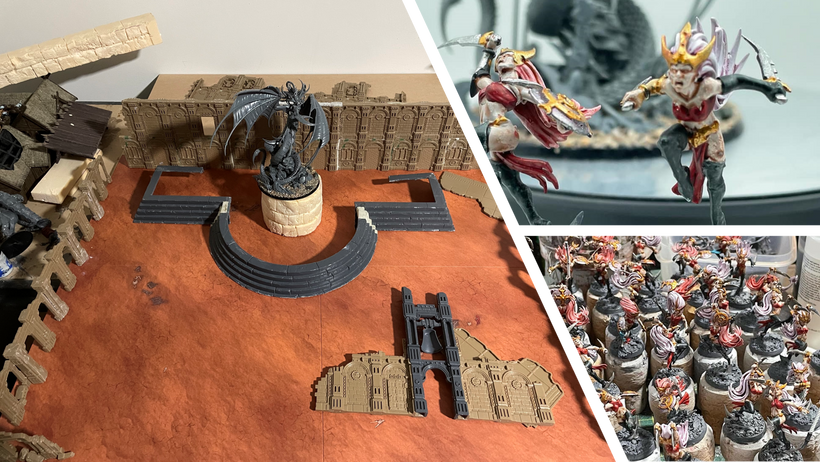 I've put the Sons of Behemat away for 3rd Edition and moving onto a new project, my Daughters of Khaine army. I've ditched the traditional lore around Khaine and have gone back in time to 6th & 8th edition Warhammer Fantasy Battles to a corrupted Cult of Pleasure/Excess.
I've had an inside joke with Chuck Moore (Strength Hammer) with a Pop Star Battle between Taylor Swift and Britney Spears brewing since 2019. While we did battle at Adepticon IRL and I defeated him with my Gitz, the time for our lore to clash. So my Cult of Pleasure is a dark alliance with Slaanesh in the realm of Aqshy, hidden in the Isle of Exiles, west of Tempest Eye / Hammerhal / Hallowheart / Avilgard – Har Kuron.
While Morathi struggles with Sigmar after the annex of Anvilgard, Brithra Helspears raises a new army in Morathi's name to reinforce her claims over Aqshy. To help tell this story I'll be building an Armies on Parade board.